"Livet Nord is completely dazzling with her violin and viola. The violas' darker voice gives
a different sort of weight to the whole, the violin glitters, flatters and demands our attention.
She makes the Violin become a voice, a wind, a space, a crystal ."
Music: Livet Nord | Poetry: Stig Dagerman | Video Art: Johannes Winkler | Artwork: Susanna Haverinen
Recording and mixing: Johannes Lundberg, Studio Epidemin, Gothenburg 2015
Mastering: Hans Olsson, Svenska Grammofonstudion, Gothenburg 2023
MUusicians: Livet Nord - Sång och violinquinton | Lisa Långbacka - Dragspel och flygel | Johanna Dahl - Cello
MUSICIAN • COMPOSER • PRODUCER • RECORD LABEL • YOGA
Livet Nord is an esteemed freelance musician, producer, project manager, concert organizer and violin pedagogue based in Gothenburg, Sweden. Since 1996 she has worked as a musician in a variety of formations and projects and toured throughout the world. She also creates international cultural exchange projects between Sweden and other countries. You will even find her playing the violin at over 50 phonograms and be running the record label Kakafon Records wich has released some of Swedens' most prominent artists and groups within Swedish folk/world music and poetry.

More info, music and pictures can be found over the page tabs and drop-down menus!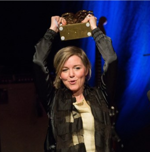 "Artist Of The Year" - Livet Nord At the Swedish Folk & World Music Gala at Berwaldhallen i Stockholm in 2015 Livet Nord recieved one of the finest awards, Artist Of The Year.

More about the gala: www.folkgalan.se

Livet Nord on Facebook
Album release 19th of may: P A P E R B I R D
Livet Nord has toured the world with a wide range of ensembles, appeared in a sizable number of dance and theater productions in addition to being featured on at least sixty albums. Livet Nord is dropping her first solo album Paperbird, brimming with musical influences from all over the globe and backed up by 19 prominent musicians. The compositions certainly reflect aspects from Livet's eclectic musical background, her inquiring mind and penchant for accommodating various styles and expressions. The melancholy polska "Solace" is shoulder to shoulder with energetic minimalism, a lush landscape of strings, buoyant party music in, and a sparkling circus waltz with all the trimmings.

MORE INFO
SINGEL RELEASE
May 5 2023

Solace / Tröstpolska
Musik: Livet Nord

It all began with a beautiful but impossible love. Then a fairytale that transformed into a poetic circus performance about a girl grieving a dead bird. Solace, or "Tröstpolska", is about finding meaning in life in even the face of grief. To embrace your feelings, but also to let go and move on. About how redemptive it can be to humbly allow all of your feelings to be present and about how close they really are to each other. About daring to be both strong and vulnerable.

MORE INFO