KAJA
LIVET NORD – violin and viola
CAMILLA ÅSTRÖM – accordion and piano
DANIEL WEJDIN – double bass
Since 2005, Sweden's Kaja has championed daring and dazzling Nordic music. The acoustic trio's foundation is klezmer and other Eastern vibes, enriched by layers of film and contemporary music, tango, Scandinavian folk tunes and jazz. The band takes inspiration from its evocative Swedish surroundings and train rides between east and west. An independent-minded sensibility in composition and arrangement leads Kaja from the intimacy of chamber music to the unpredictability found in folk and improvised music, the players' idiosyncrasies in technique – from glissandos to unusual grooves and ornamentations – revealing personal playing styles that are both highly expressive and tightly controlled. Although the band remains informed by Eastern European Folk music traditions, it's Kaja's experimental side that has made the genre its very own.

To date, Kaja has released three critically acclaimed full-length albums. 2007's Krackel, 2010's Rust and 2013's Tre Trappor Upp.


BIO
• 2005-2006 Kaja was funded 2005 and a lot of new music was being created. The EP Kaja was released in 2006. They toured in Sweden and Germany.

• 2007-2009 Kaja's first full length album Krackel was released in 2007. They performed at festivals, culture houses, theatres, museums, churches, clubs, schools and private parties in Sweden and also toured in Denmark. New music was composed and recorded for the upcoming album.

• 2010-2012 Kaja released their second full length album Rust in 2010 which got rave reviews. They attended Womex and toured in Canada and Holland. Together with the vocal quartet Tetra, Kaja released an album and toured with the show Midvintervaka.

• 2013 Kaja attended APAP in New York. They performed at Jarasum International Jazz Festival, Changwoo World Music Festival, Global Jazz Festival in South Korea and made a TV concert in the South Korean international channel EBS Space. Their third album Tre Trappor Upp was released on both CD and vinyl.

• 2014-2017 Since 2014, Kaja has made a lot of new compositions, which will be heard on their upcoming fourth full length album, to be released in 2018. The group has been touring in Holland and Sweden together with the Dutch trio Tango Extremo

More info will come!
LIVE in UMEÅ at Hammock Sessions: Tiergarten (by Livet Nord)
From the recording of Tre Trappor Upp:
Dans med ryska dockor (by Camilla Åström)
Latest album released in November 2013
Kaja released their latest album in November 2013.

Kaja's latest release - Tre Trappor Upp – treats you to their own particular brand of daring and dazzling chamber folk, full edgy twists and turns. Always partial to East European folk music, over the past ten years Kaja has also forged their own musical language by layering on more and more dimensions. Their eclectic blend has evolved into a genre of its own: A fusion of klezmer, tango, Swedish traditional, French waltzes, cinematic art music and improvisation spiced with fresh influences from American folk music, acoustic club music and Indian ragas. Building on the strengths evident on their critically acclaimed second album, Rust, their sound has continued to mature and more space has been given to improvisation. The magical sleeve art is the work of Yusuke Nagano. And if you buy the LP version ofTre Trappor Upp, you will also get nine poems – one for each track – written by the uniquely talented Olivia Bergdahl.
World musical christmas show: MIDVINTERVAKA
A colorful modern Christmas show with saffron and cinnamon spiced songs songs from around the world!
With the show "Midvintervaka" canvases Kaja & Tetra up a sumptuous Christmas dinner for everyone. The seven musicians and singers offer a colorful Christmas show with dancing and music drawn from various folk traditions: Nordic, Greek, Arabic, Celtic, Roma, Macedonian, Italian and Caribbean folk music, klezmer and tango. It sounds ranging from Staffan Supervisor and Santa Lucia in Italian to the brand new midvintertango and Haitian comfortable swinging Christmas music. Known and less well-known, traditional and newly written, locally and internationally.

INFO, Trailer, Photos, Album: www.midvintervaka.se (in swedish)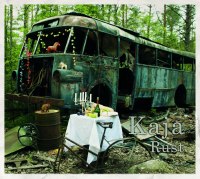 RUST
Rave reviews!

"Kaja have arranged their music in a most ingenious way…
/…There is a thrill and magic that makes each track grow into a world
of possebilleties"
/Lira (Swedish World Music Magazine)
5/5"Rust is exeptional and dazzling music"
/Corren
5/5 "Kaja use blue notes of a kind B B King has never found and which stings better than schampoo in your eyes"
/Sydsvenska Dagbladet
"The result is irresistable"
/Göteborgs Fria tidning
5/5 "Kaja has taken everything in life, destilated it on a bottle and shaken it" /NWT
"It is enchantlingly excellent"
/Östran

Buy Rust
Listen
Kakafon Records