MUSICIAN • COMPOSER • PRODUCER • RECORD LABEL • YOGA
"Livet Nord is completely dazzling with her violin and viola. The violas' darker voice gives
a different sort of weight to the whole, the violin glitters, flatters and demands our attention.
She makes the Violin become a voice, a wind, a space, a crystal ."
Livet Nord is an esteemed freelance musician, producer, project manager, concert organizer and violin pedagogue based in Gothenburg, Sweden. Since 1996 she has worked as a musician in a variety of formations and projects and toured throughout the world. She also creates international cultural exchange projects between Sweden and other countries. You will even find her playing the violin at over 50 phonograms and be running the record label Kakafon Records wich has released some of Swedens' most prominent artists and groups within Swedish folk/world music and poetry.

More info, music and pictures can be found over the page tabs and drop-down menus!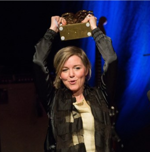 "Artist Of The Year" - Livet Nord At the Swedish Folk & World Music Gala at Berwaldhallen i Stockholm in 2015 Livet Nord recieved one of the finest awards, Artist Of The Year.

More about the gala: www.folkgalan.se

Livet Nord on Facebook
SINGELSLÄPP 21/10!
Suddenly She Passed By
Music by Livet Nord
SOLO DEBUT!

My single "Suddenly She Passed By" was released at Kakafon Records. The music is written for a beautiful poetical cirkus performance about sorrow and solace that premiered in Stockholm, February 2022. In March 2023 my full length album "Paperbird" will be released with all music from the play! "Suddenly She Passed By" will be the first of three singles from that album! I'm so excited, and a bit nervous of course! See you on Friday!

Livet Nord – Violins, Celesta
Camilla Åström – Accordeon
Daniel Wejdin – Double bass
Klara Goliger – Wurlitzer och diverse biljud

Recording: Livet Nord, Daniel Wejdin
Mix: Klara Goliger, Music A Matic Studio, Göteborg sept. 2022
Master: Hans Olsson, Svenska Grammofonstudion, Göteborg sept. 2022
Cover: Susanna Haverinen
Producer: Livet Nord
Label: Kakafon Records

Trailer for the performance Ska det vara såhär??!