L I V E T N O R D • C V / R E S U M È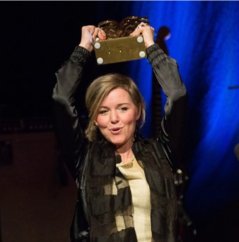 CV Resumé
Livet Nord
Violin, viola and Quinton (5-stringed violine)

Artist Of The Year 2015
At the Swedish Folk & World Music Gala at Berwaldhallen i Stockholm in 2015 Livet Nord recieved one of the finest Swedish awards, Artist Of The Year! More about the gala: www.folkgalan.se

My name is Livet Nord. I am born in Sweden in 1972. I am classically trained at the Music Academy in Gothenburg 1994-1998 and the violin is my life and my proffession. Basically freelancing within a wide range of musical genres I've been part of a variety of formations, plays and projects since 1996 and toured throughout the world. Mainly playing Argentinian Tango/New Tango, Eastern European folk music (Klezmer, Balkan, Romani music), experimental art music and different cross-over genres between folk/worldmusic, classic music and jazz. Also a hint of Flamenco, Indian music, American folk, Arabic music, rock, pop, reggae and of course Scandinavian folk music and my own compositions. I've made performances, shows, theatre plays, humor shows, dance shows, cabaréts, musicals, experimental art performances music and theatre for children. I've been collaborating/perfoming with dancers, poets, painters, story tellers, actors, commedians and performance artists. Sometimes using loop pedals and other effect pedals.You can hear me play at over 40 phonograms and broadcasted concerts for international TV and radio and in films. My main projects have been New Tide Orquesta (NTO) since 1996 and Kaja since 2005. Besides that I've been member of at least 15 ensembles. A few is named below.

EDUCATION/FURTHER EDUCATION TRAINING (to name a few)
Music Academy in Gothenburg 1994-1998. Jazz improvisation, Music Academy in Gothenburg 1996.
Violin classes, composition, improvisation with the swiss master Paul Giger, Swizerland in 2006. Overtone Singing, voice master Christian Zehnder, Switzerland, in 2002

GRANTS, SCHOLARSHIPS, AWARDS (a sample)
A number of Grants ans Scholarships have been received since many years, from the Swedish Arts Council, Swedish Arts Grants Committee and Musikverket, mainly for the work with NTO and Kaja. In 2015 I was awarded Artist Of The Year at the Swedish folk- and world music gala.

MEMBERSHIP AND WORK WITH DIFFERENT MUSIC GROUPS
Short info about some of my work with a few but important groups/projects.

• NEW TIDE ORQUESTA (quintet, former New Tango Orquesta, member since 1995)
With composer Per Störby Jutbring in lead we have, through our eight albums and a number of International tours, created a miscellaneous mix of modern chamber music, minimalism, baroque, free improvisation, and new tango. The album "Bestiario" was nominated for a Swedish Grammy award, and Vesper won the Experimental of the year-award at the Swedish Manifest gala, and 2010 we were awarded Group Of The Year at the Swedish folk- and world music gala. The music of NTO has been used in several movies, theatre plays, dance performances and art installations. We have toured Brazil, USA, Argentina, Uruguay, Russia, China, Germany, Irland, Poland, Turkey, Luxemburg, Ukraine and Scandinavia with shows at big and small venues and festivals for experimental music, rock, jazz, worldmusic and tango. NTO were broadcasted at various international TV and radio shows in several countries. Some of the albums (Hoob Records): Live In Rio, Vesper, How To Climb A Mountain, The Kiev Concert and Spirits: Nursery Rhymes. In November 2017 the touring performance Mönster Outside, in with NTO and Sidra Bell Dance New York, had premiere in New Orleans. More: www.newtideorquesta.com

• KAJA (Musican and composer since 2005-)
On three released full-length albums we have explored klezmer, tango, Swedish folk, French waltzes, cinematic art music and improvisation in our all original Kaja compositions. Tours: Sweden, Germany, Denmark, Netherlands, Canada and South Korea. Performed at jazz festivals, folk and world music festivals, culture houses, concert halls, clubs, boats, churches, schools, private parties, TV and radio. More: www.kajatrio.se

• Kraken Shanty Band (2015-) Shanties, folk music and stories from all over the world.

• Beches (Indian) Brew (2013-) Jazz/Worldmusic with the Sweish legendary drummer Bengt Berger in Lead.

• Nord/Långbacka/Dahl (2007-2017) Original music by the members, on violin, cello, accordion, piano and voices.

• Midvintervaka (2011-) World musical Winter/Christmas Show.

• Kultiration (2006-2009) Reggae/Jazz/Swedish Folkmusic.

More info about all projects, groups and phonograms, videos, pictures and music will be found here at my web page: www.livetnord.se
Facebook: www.facebook.com/livetnordmusic/

NEW TIDE ORQUESTA
Original music made by Per Störby Jutbring
Vesper at Stora Teatern in Gothenburg. Tango by Per Störby Jutbring. (Violin solo 2:37)
The Buffalo Stance
Making of the album How To Climb A Mountain. Minimalistic music.
KAJA
Original music made by the members of Kaja
Trailer movie made for Womex 2017.
(Violin solo/impro at 0:38, India meets america)
Live from Stallet in Stockholm.
1. Valse Triste (lively waltz)
2. Hoting (lively klezmerinspired tune) (2:14, violin from 2:47)
Inspired by Eastern european folk music.
Multicultural winter/christmas show with Kaja and the vocal group Tetra. Greek, Haitian, Scandinavian and arabic folk music mixed with new compositions.
Nais Balamo (Song Of The Gypsies) with Tetra & Kaja in Varberg.
(Solistic for the violin, with improvisation)
Sample of songs from the performance Midvintervaka.
Foyer gig before the musical theatre play Katitzi in Sundsvall 2017
Tchavolo Swing (Romani/jazz)
(Violinimpro from 0:30)
Mahlageasca (by Mahla Rai Banda)
Brzac (Rumanian trad folk music)
Example of solo gig on TV